Dear Friends,



Last week, I sent you an inside look into Chapter 6 from the soon-to-be-published book, Reading Revolution: How to Teach Children with Autism to Read. In that email, I showed you a couple of problems with learning to read and how to overcome them.

Today, we're going to look at how you can make reading books an effective learning activity.

As you probably know, reading to your child is one of the most important practices for helping your child become a better reader. And if all you did was simply open a book and read to your child, you would be leagues ahead of parents who don't take the time to read to their children.

But there are some simple things you can do to help your child learn even more during reading time. Here are a few examples from Chapter 7 - Reading Books with Your Child: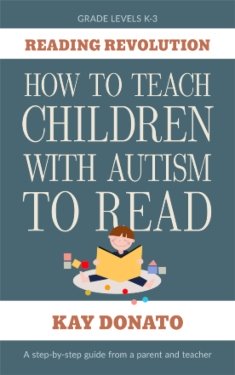 Try picture books if your child is just beginning or isn't yet ready to learn to read.
Picture books are valuable reading readiness tools because they help children learn to follow a story and to understand the concept of a sequence of events.

Depending on abilities, you may start out reading stories with only pictures to your child. It's an obvious place to start if your child hasn't yet learned to read. But whether or not your child is ready to learn to read, picture books can help in figuring out what's happening based on the pictures, an important pre-reading skill that you can practice anytime. For my son, it was easy to sound out words and read them back. But talking about what's going on in the picture was much more difficult. Plain pictures without words gave him the challenge of judging facial expressions, naming characters, identifying actions, and other similar tasks.

As you look at the book together, you'll want to start by describing what's happening in the picture. You'll be talking about who is in the picture, what's in the picture, and who is doing what.
For very young or beginning children, try readers or shorter books.
For young children with a short attention span, short books or stories, like what you might find in readers, are ideal. As your child grows and ability to focus increases, you can gradually increase the length of the books you read together.
Point to the words on the page as you read them.
This will allow your child to read along with you and to follow the words as you read them.
Ask occasional questions as you read the story.
Asking questions will help your child to understand and pay attention to the story. It also exercises your child's critical thinking skills. For example, when I read to my son, I might start out by saying, "This is George."
Right away, I might ask him, "What's his name?" as I point to George. Unless your child is more advanced, it's usually best to ask as soon as you have read the answer. Otherwise, they are likely to forget what you read a few pages ago.
Then I would read, "George was a good little monkey and always very curious."
Here I might ask, "What kind of animal was George?"
Next, I would read, "Today George is going to the library with his friend, the man with the yellow hat."
Then I could ask, "Where did George and the man with the yellow hat go?"
You could pose different questions that ask who, what, when, where, and which. More advanced children may also be able to answer why and how questions. If your child is nonverbal and cannot answer the questions, you can ask the questions and answer them. Even if not able to answer the questions, this practice will still give your child a greater understanding of what you are reading.
Keep in mind that asking too many questions will turn this fun activity into too much work. Asking only occasional questions is best to avoid ruining the enjoyment of reading the story. The goal here is to balance helping your child understand the story with making reading fun.
Remember, our kids won't read very much if they don't enjoy it.
Reading a story once in a while just for fun with no questions is also a good idea. This gives our children the occasional treat of enjoying a story minus any work or interruption.
****************
Next week, I'll give you an inside look at one of the sample lesson plans that I have included in the book.
Warm Regards,

Kay Donato
http://www.aplusasd.com/