Hello!


As a mother of a child with autism, I know all too well the stress we as parents carry each and every day. Even a brief explanation to a friend or acquaintance about the usual events in our lives will get the response, "You've got a lot on your plate!"
Don't get me wrong—I love my life, and I love doing life with my family. I wouldn't trade it for anything in the world.
But I admit that I do have a lot going on, and so do my kids. And if you're like us, you need a break from time to time.
Christmas time is a great reason for scheduling some downtime for both you and your family. And there's no doubt about it—our kids need some fun in their lives just as much as we do.
So here are a few ideas for ways to take that much-needed break and enjoy the season with your family.
Visit Your Local Mall
Before Amazon expanded their online retail business, visiting the local mall was a must-do tradition for most people. I think I miss that tradition.

Christmas shopping at the mall is an experience all its own because it isn't just about making purchases—it's a festive Christmas experience, and an enjoyable family outing.
Drive Around to Look at Christmas Lights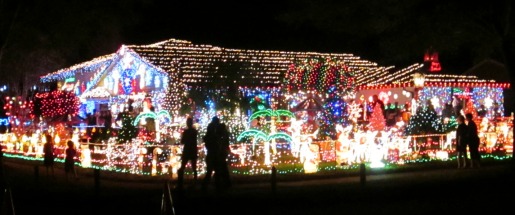 Each year, I like to bring my kids to see what some believe to be the most amazing light display in the Orlando area.

This is a tradition for us every year on or close to Christmas Eve. My children never get tired of seeing this each year, and it appears that lots of other people feel the same way. Every time we go to this display we must wait in a long line of cars.

If you're in Orlando around this time of year and would like to see that display, it's just off of Tangerine and Howell Branch Rd. at 5651 Garden Grove Circle in Winter Park. Rob and Betty Peterson, dubbed the "Voltage Veterans" by the Orlando Sentinel, have been putting up their fantastic display every year for the past 26 years.

Whether or not you have an impressive Christmas display in your community like the one the Petersons have built, it's always fun to drive around and see the festive Christmas lights in your own neighborhood. Some people go all out and put a lot of effort into creating a beautiful lighted scene. It's a lot of fun discovering what others have come up with!
Have Your Child Help You Set Up or Take Down Decorations
You may or may not need help decorating for Christmas, but encouraging your child to participate in a pressure-free way can truly boost her morale and self-confidence. You may be surprised at how good it would make her feel to be involved and to feel productive. When I have my son contributing to whatever I'm doing, he loves it when I tell him what a wonderful helper he is.
Listen to Christmas Music
For children who love music, playing lots of Christmas carols or Christmas music videos on YouTube could brighten the mood. Music is a clear favorite for my younger son.
Search For Events in Your Area
If you're in a big city, there are probably lots of activities to choose from. Here in Orlando, we have many events, ranging from those with free admission to more costly options, such as those at Disney World and Universal Orlando Resort.

This was the first year we saw Santa's Winter Wonderland here in Orlando at the Waterford Lakes Town Center. They open at 2 pm, which is great for kids who can't tolerate all those bright lights that come on at night.

There weren't massive numbers of people there when we went, so this type of event might also work for some children who can't stand large crowds.

My younger son won't go on any rides, so he was content to see the sights and watch the festivities. About two years ago, he developed an aversion to carnival rides, possibly due to a sensory issue. Some kids crave that type of stimulation while others may be unable to tolerate it.

I think the key here is to let our kids enjoy the season in their own way as best they can.

You may find carnivals or festivals like we have here, or a Christmas presentation at a local church. In our city, the First Baptist Church of Orlando offers a "Singing Christmas Tree" presentation every year. It's quite a production--not your average Christmas play. Check out the link at the end of this message if you'd like to watch the finale of last year's Singing Tree program.
Watch a Christmas Movie
For those who find it difficult to leave home, perhaps a family Christmas movie will be just what you and your child need to unwind and enjoy the season. This is one of my favorite things to do at Christmas time, and my older son enjoys this a lot as well.

Some favorite classics include it's a Wonderful Life, The Santa Clause, and Miracle on 34th Street.
Baking and Crafts
If your child is like my younger son and cares nothing for movies, perhaps baking cookies together or making crafts such as Christmas ornaments might interest her.
Read Christmas Stories
Listening to a good Christmas story will appeal to many children who wouldn't be interested in lights, music, or crafts. Perhaps you have a copy of The Grinch That Stole Christmas or The Night Before Christmas.

If you don't have Christmas books at home, check out the link at the end of this message to find ten free Christmas stories online for you and your family to enjoy.
There's Always Lots To Do!
There are lots of options and ways to enjoy the season. The point here is to take a break and have some fun doing what you and your family would enjoy the most.

Take care, be safe, and have a very, merry Christmas and a happy New Year!

Warm Regards,

Kay Donato

https://www.discoverautismhelp.com/ The finale for First Baptist Church of Orlando's 2018 Singing Christmas Trees presentation Free online Christmas stories