Games For Autism:  Motivate Your Child to Learn
Games for autism learning may be just what your child needs for motivation. It can turn the most boring of lessons into a lot of fun.
I learned this technique from my son's speech therapist. Quite often she would pull out a game to play with him.
This was highly motivating for him and he seemed to enjoy most therapy sessions.
Apparently, therapists have learned that if you want children to learn something it helps a lot to make it fun. 
She faithfully included lots of fun activities during his sessions. I realized early on that if I wanted him to learn, I needed to do likewise.
It turns out that we can use games to teach just about anything. But first we'll talk about games in which skill acquisition is already built into the product.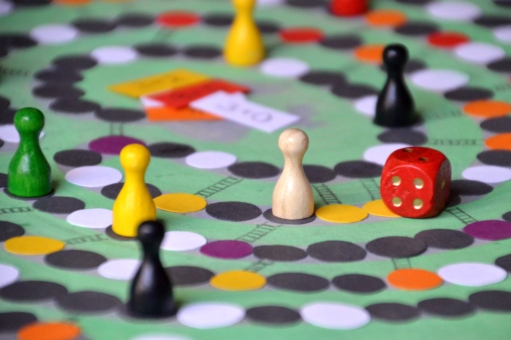 Games for Autism That are Designed to Teach New Skills
Some games are already designed to teach new skills. For these activities, all you have to do is play them with your child to demonstrate and reinforce the concept.
An excellent example of this is Guess Who?, which helps children learn visual discrimination and listening skills.
Another classic example is Mr. Potato Head which you can use to teach your child the names of body parts and various accessories such as hats, glasses, shoes, etc.
You might think that such teaching-oriented activities are the only fun products you can use to teach new skills to your child.
But the good news is you can pick up just about any similar product on the market and use it to teach reading, math, writing, speech, independent living skills, and a host of other basic concepts.
How to Use These Entertaining Products For Learning
Some of the products my son has played for learning include Candy Land, Connect Four and Chutes and Ladders. His favorite by far was Candy Land.
Each time it was his turn, his therapist required him to say a word or answer a question, depending on what she was teaching him that day. Once he gave his response, she would let him take his turn.
Then she would take her turn. And before he could take the next turn, he had to answer the following question or say the next word.
You could use this technique to teach not only speech but also math facts, letters, letter sounds, vocabulary, writing—you name it. 
What is more, the activity itself teaches lessons in turn-taking. As you may already know, taking turns is a skill children need before they can learn the give and take of conversation.
These games for autism were very motivating for C, and as I have stated elsewhere on this site, his therapist was responsible for helping him learn to talk. 
I truly believe that making these activities fun played a significant role in making that happen.
You can run out to the store or go online and buy one of these products if you want to. But if money is tight, or if you like to create things, you can make your own activity out of materials you probably already have at home.
How to Make Your Own Fun Teaching Game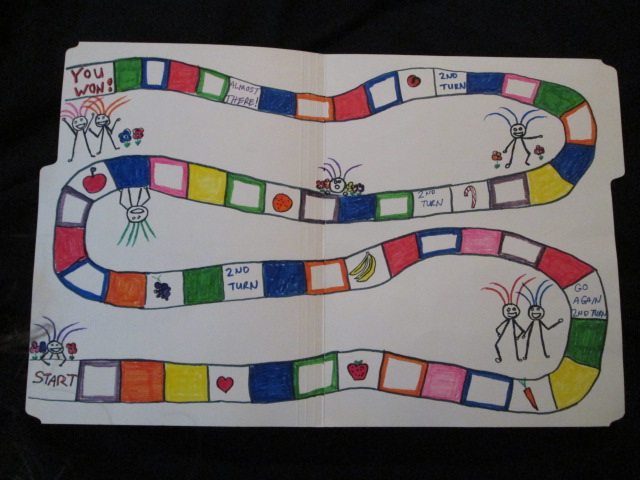 A folder game is easy to make and takes up almost no space. When you're not using it, all you have to do is file it away.
Making games for autism like this is really very simple.
I like to use a file folder.  All you need to do is draw a path with some colorful pictures on the inside of the file folder. Each time you're done with the activity, all you have to do is fold it up and file it away!
I'm not an artist as you can tell from the picture. And you don't have to be an artist. Just a few simple drawings included around and on the path are all you need.
If you're an artist and you can make your activity look amazing, then go for it! But it really doesn't have to be anything fancy. 
If you think about it, most parents can testify that kids often don't care about fancy stuff. They will often ignore their Christmas or birthday presents and choose to play with a stick from the backyard!
Who knows, your child may even prefer your homemade activity to any product on the market!
Flash cards are a handy place to write down all the questions you'll be asking your child during the learning session.
Once all the drawings on your folder are complete, you can laminate it or cover it with clear contact paper to protect your creation if you wish.
If you don't have a file folder, no problem. All you really need is a poster board, or even a large piece of paper will do. Some pens or markers would be helpful to make it colorful. And if you have some dice around the house, you can borrow them for this activity.
Even if you don't have dice, you can find some index cards or square pieces of paper and write a number on each card. Your child can pick one to find out how many steps his token can take.
For tokens, you could use coins, erasers, small toys, or any other small objects you have lying around the house.
Have Fun With Learning
If you've been struggling with getting your child interested in his lessons, I hope using games for autism learning will make a difference.
Whether or not it helps, I'd like to know how well this worked for you. If you wish, you can leave a comment or send me a message from my contact page. I highly value your feedback because it gives me an education on what works for my readers.
Like This Page?