Using Educational Testing in Your Home Program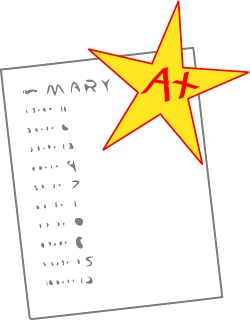 Educational testing is an important part of teaching your child any subject. In this article I will outline several ways to find out if she knows what you've worked so hard to teach her.
Now it's also important to remember to first give her the information she needs to learn, such as how to read or how to work addition equations.  This may seem like an obvious no-brainer, but it's easy to get caught up with lots of testing without actually giving your child the new information she needs.  I myself have fallen into this trap in the past.  
But with that said, you'll need to know at some point how much information she remembers.  You need to find out if she knows what you've worked so hard to teach her.
This is where testing and quizzes come in.  But how do you go about testing her?
Here are a few simple, effective ways to find out what she's learned.
Ask and Point Educational Testing
In this method of testing you simply ask her a question and have her point to the answer.  You of course would need to have more than one answer for her to choose from.  
If she can read, all you have to do is write the choices down on paper.  If she can't yet read, you can use pictures.  Cut them out from magazines or print them out.  You may also be able to find educational picture books in which the copyright notice allows for photocopying its pictures.
Another option to use is the Boardmaker program.  This program is especially designed for printing out pictures to use for special needs children.  You can print the pictures out with or without labels, depending on your child's needs.
---

---
Placing Rewards On Correct Answers
Our speech therapist gave us this wonderful idea.  What I really like about this method of educational testing is that you're accomplishing two things at once:  rewarding good work and testing your child's skill level.  
When my son was going through the Moving Across Syllables program, the therapist would ask him to say each word on the page.  If he said the word correctly, she would place a chipper chip on the word.  After he had finished the page, she could quickly see which words he got right and which ones he missed.  
This method obviously works well when you're using some type of paper or worksheet.
Just about any small reward will work well here:  chipper chips, stars, removable stickers, small food items, etc.  See this article on rewards for a list of ideas.  The important thing is to use a reward that your child really likes.  Otherwise, it's not really a reward for her.
Recording Right and Wrong Answers
Therapists tend to use this technique a lot, especially speech therapists.  
When you're asking for verbal answers, simply jot down each right or wrong answer.  It's quick and easy and takes almost no time at all.  Our therapist used pluses (+) for right answers and minuses (-) for wrong answers.
You can choose to record your child's answers all the time or only occasionally.
Quizzes
All the above ideas work well for a lot of situations you'll encounter, but chances are, you'll occasionally need to give your child actual tests or quizzes to find out how much she has learned.  
You can make up all your own quizzes.  This can work well for some people, but many of us simply don't have the time.
Another option is to go online for quizzes that are done for you. 
Education Quizzes is an extremely helpful educational testing resource that provides a wealth of quizzes to choose from for a small monthly fee.  And these are all online quizzes that are fun for kids who might find regular tests to be boring and tedious, or even stressful.  These fun quizzes can take the stress out of tests for our kids who need as little anxiety as possible in their lives.
These online quizzes are not only good for testing but also another great way to review what she's learned. 
Please note that I receive no financial compensation for mentioning Education Quizzes. I mention this as a resource that can be highly useful for many children.
Like This Page?