Autism Blog
Keep up with all the latest ideas and techniques that can help your child with autism reach his or her potential. This autism blog will list all the newest pages to this site. No need to have to search to find the newest information as it's all here on this page.
If you want to be notified each time I publish a new page, subscribe to the RSS feed. Just click on the little orange button (over to the left and just below the navigation bar).
The items below are our latest updates...
Jun 30, 2018
What Do You Need Help With the Most?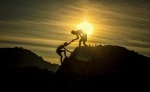 In what way do you need help the most? Here's your chance to have your say and my chance to learn about your greatest needs.
Like This Page?